Historical society, architectural interest, school trip, travel tour, coach trips, destination management and group travel are often looking for a compact and highly portable tourguide system. The ATS-20 series is ideal for walking tours with some great user-friendly features for both the tourguide / tour escort and their tour guests.
compact, lightweight packages in canvas carry bags are easy for you to transport
tiny devices operate for up to 16 hours, recharging in just 6 hrs
single ear-speakers are comfortable for guests to wear
allows four simultaneous tour groups
Additional Comments from a Second Guide
The ATS-20 series uses digital transmission technology that allows a secondary guide/presenter in the tour to talk. You may have engaged the services of a local guide to lead the tour of a historic building for example but would like to add comments or directional guidance during the tour. This is achieved by using the ATS-22 tourguide devices for the leader and secondary guide (scenario 2, illustrated below).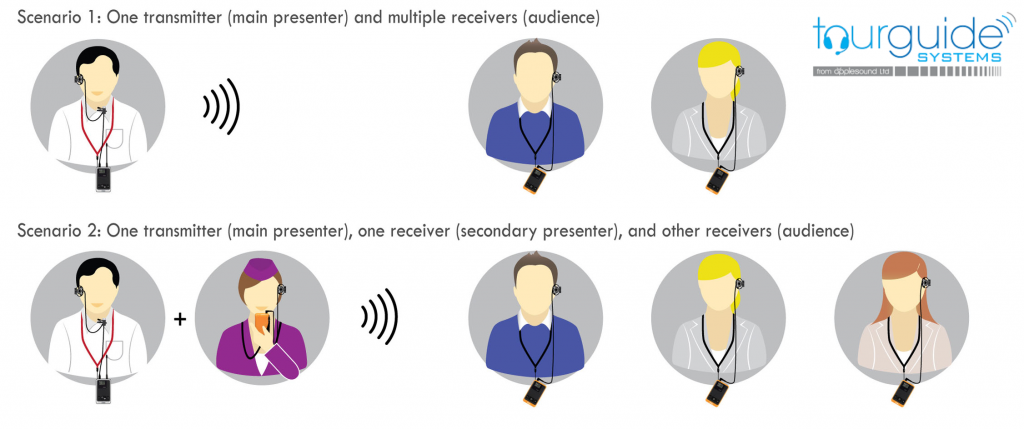 Hire or Buy
Hire kits from just one day, to a week or month +

11-way package has one guide unit & 11 listeners
34-way package has one guide unit & 34 listeners
Combine two or more packages for larger groups

Serviced rental contracts from 6 months to five years
Also available for purchase from stock at competitive prices