August 30th, 2022 – v2.01.01 released. This version delivers enhanced performance for the new neck loop accessories LA-438 and LA-439. Also some minor issues were fixed to increase performance & stability.
April 5th, 2021 – v2.0 released. The expanded functionality of the ListenTALK tour guide system makes it easier for interpretation applications, enhances natural conversations, and delivers better performance.
The new 2.0 features are summarised below.

Enhanced Ratio Performance
Increased the working number of simultaneous groups in the same area – now up to 30 groups (Europe version).
Up to Three Talkers at One Time
Creates and promotes a more natural, free-flowing conversation by allowing a Leader, a Sub-leader and a Participant to all speak with each other at the same time with 'open microphones' like a conference call (full-duplex).
What happens when the fourth person has something to say?
ListenTALK monitors the conversation and applies an algorithm to keep the most recent talker in the conversation and allow the next Participant to join the discussion – automatically. So, when a fourth person presses their Talk button, they take-over as the third-talker (replacing the least active talker).
ListenTALK avoids distracting chatter that's overheard when too many microphones are active and keeps background noise to a minimum – enhancing clarity to keep everyone focussed.
Simultaneous Interpretation
The ability for an interpreter to hear the main presenter or tourguide (source language) in their headset while interpreting and speaking in a different language to another group of Participants.

Furthermore, a two-deep relay interpretation can be set up if preferred.
Participants listening to a simultaneous translation may be given the option to ask questions to their interpreter (two-way sub-group).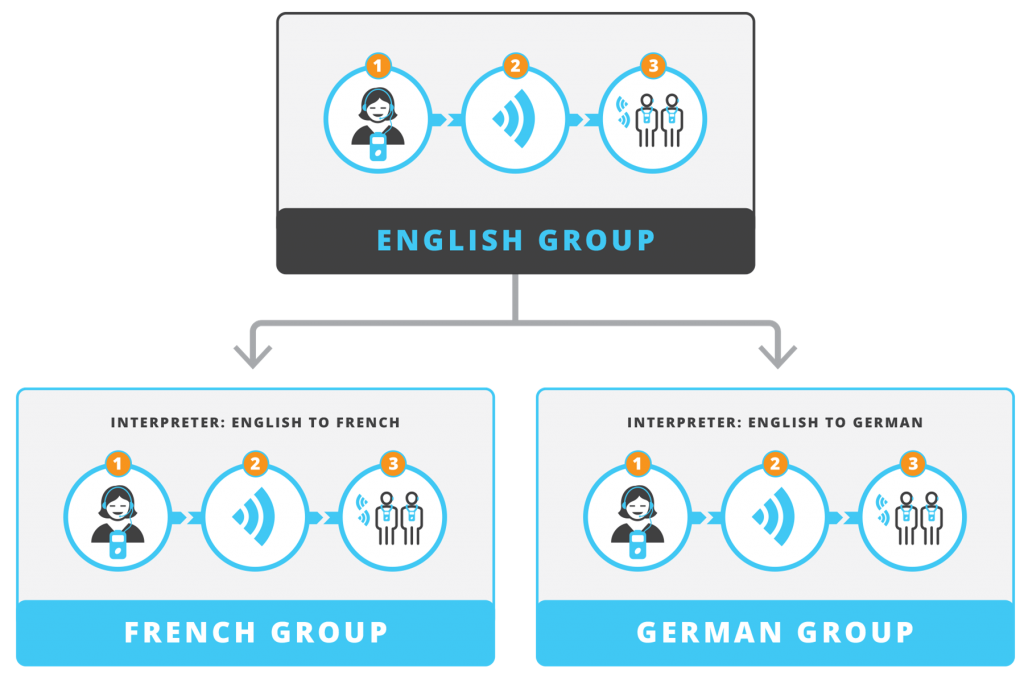 Additional interpreters can be added within the 30-group limit.
---
---