ListenTALK tourguide systems are enhancing visitor tours in plants all over the world. Here's another example, this one's in the USA.
When you're leading executives on a factory tour of a Blue Buffalo manufacturing facility, it is essential to keep their attention. The best way to do that is with a superior group communication system. That system is ListenTALK.
"With ListenTALK, visitors are able to fully immerse themselves in plant tours and hear speakers clearly. The wrap-around headset with boom mic helps block out peripheral visual and audio distractions, so listeners remain in the moment and focused on the speaker," said Adam Wilson, IT infrastructure engineer at Heartland Pet Food Manufacturing—The Blue Buffalo Company.
How it works
ListenTALK is easy to set up and use, making it ideal for any factory tour or plant tour. Before the tour starts, tour leaders can pair transceivers into a group by using the docking station or on-the-go with a gentle tap. There's no limit to group size, and up to 30* groups can operate in the same area. (* in Europe)
Once you're ready to go, you and your guests can choose how to hear. There are the wrap-around headsets with boom mics like the ones Blue Buffalo uses. Or guests can choose to use their iOS or Android earbuds, or some other kind of headset.
Then during the tour, the group leader only needs to speak normally; that's because ListenTALK has a sensitive internal mic—leaders won't even have to hold it up to their mouths. The same is true for people in the group. (There are plug-in headset options for noisy environments too.) When they have something to say, all they need to do is push a single button, and the whole group will hear their comment or question.
Once the tour is over, place the transceivers back in the docking station and they'll be charged and ready to go for the next tour.
Where it works
ListenTALK is at its best in the most challenging environments. It's perfect for factory tours, plant tours, warehouse and any other facility where the loud hum of ventilation systems and machinery makes it hard to hear—even if the speaker is standing next to you. It uses a 1.9 GHz frequency to reduce interference, so you won't need to rely on their smartphone, Wi-Fi, or Bluetooth connections.
ListenTALK delivers crystal-clear audio while shutting out loud machinery and other background noise. That means you can quickly identify dangers to people in the group and know that they'll hear you.
In addition, ListenTALK has excellent range, so group members can wander around corners or linger behind the group and keep their connection. This system also is encrypted for privacy and security, keeping sensitive or confidential information in the room.
Why it impresses
ListenTALK provides an enhanced factory tour experience that's positive and personal. Because it shuts out background noise, factory tour participants become part of an immersive adventure. They hear every word clearly and can talk to the tour leader and each other.
Blue Buffalo USA started using ListenTALK at its Heartland Pet Food Manufacturing complex because officials there wanted to capture and hold the attention of company executives during their monthly visits.
"We also wanted to provide an immersive experience," Wilson said. "To help executives understand what the manufacturing process is really like, we invited them to don hard hats and steel-toed boots and needed a communication system that would complement this approach and help keep them in the moment.
"The ListenTALK system really let us create a point of focus and capture executives' attention during tours," Wilson said. "The headphones helped block out distractions and enabled tour participants to hear speakers clearly."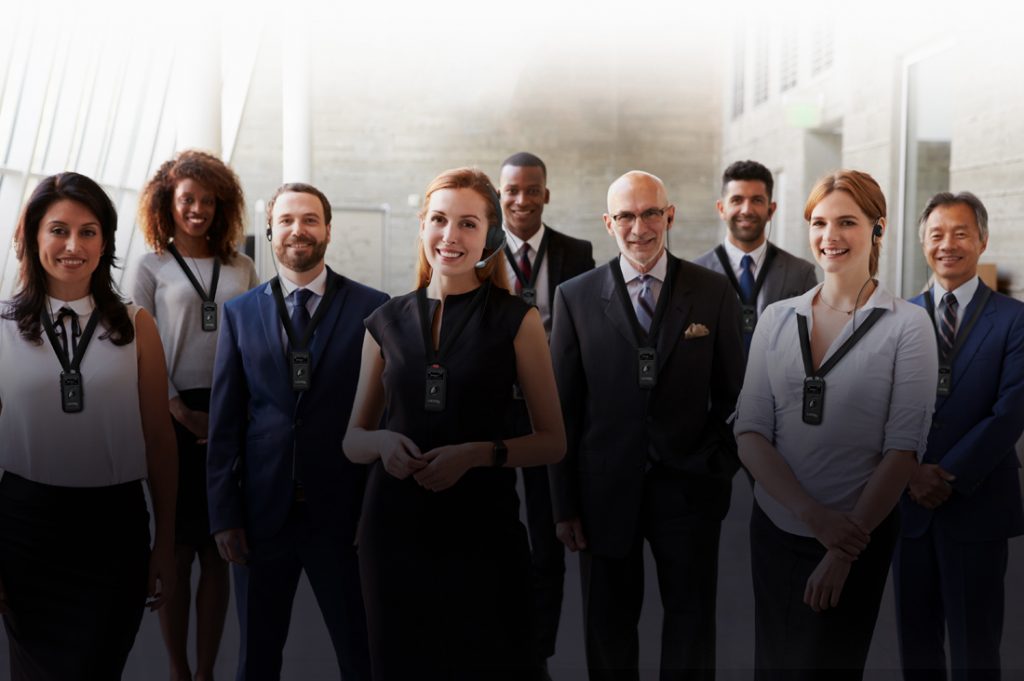 If you're looking for a group communication system ideal for a factory tour, look no further than ListenTALK. This system delivers crystal-clear sound that will attract and hold the attention of everyone on a group tour. It's easy to set up and use, works in the most challenging noise environments and impresses everyone by delivering an enhanced factory tour experience.
If you're ready to join Blue Buffalo and give ListenTALK a try, check out the system details and call us for your free demo.